A special edition dedicated to 30 fantastic Italian places aims to affirm the excellence of "Made in Italy"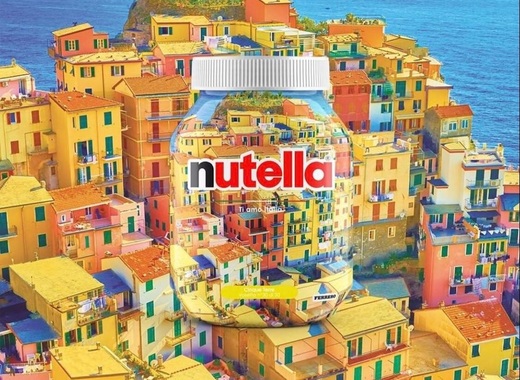 Ferrero (Italian manufacturer of chocolate and confectionery products, and the second biggest chocolate producer in the world) together with the Italian national Tourism Agency (Enit) has decided to brand Nutella jars with a special edition in an expression of love for Italy. Thirty jar label designs are already on the market in limited and collectible editions, celebrating the beauty of the country.
Discover 30 fantastic locations on the Peninsula
On the jars, you will discover villages and mountains, islands and cities, and crystal clear waters – each image a glimpse of Italy. A journey that will inspire consumers to visit thirty locations in Italy.
The special labels edition named « Ti Amo Italia » (I love you Italy) celebrates the country, touching all regions, from Gran Sasso to Cinque Terre, from Scala dei Turchi to Gran Paradiso, from Monte Rosa to Venice, and from Lake Como to Alberobello.
By scanning the QR code on each container you can live a virtual reality experience. The contents are available on a digital platform, where it is possible to test one's knowledge related to the land, history and culture, and enjoy video recipes harking to the culinary tradition of Italy.
The aim of the project is to affirm the Italian character and the excellence of the "Made in Italy" brand with immediate recognizability. It is no coincidence that the campaign was started at this difficult time in order to help out a strategic sector of the Italian economy as is tourism.
The thirty Italian places featured are:
Abruzzo: Gran Sasso
Basilicata: Matera
Calabria: Arco Magno di San Nicola Arcella
Campania: Faraglioni di Capri
Emilia Romagna: Portici di Bologna
Friuli Venezia Giulia: Vigneto di Savorgnano
Friuli Venezia Giulia: Lago di Fusine
Lazio: Civita di Bagnoregio
Lazio: Monte Circeo
Lazio: Via Appia Antica
Liguria: Cinque Terre
Lombardia: Lago di Como
Marche: Colli di San Severino
Molise: Cascate di Santa Maria del Molise
Piemonte: Langhe
Piemonte: Monte Rosa
Piemonte: Lago Maggiore
Puglia: Alberobello
Puglia: Roca Vecchia
Sardegna: Arcipelago della Maddalena
Sardegna: Su Nuraxi di Barumini
Sicilia: Scala dei Turchi
Sicilia: Stromboli
Toscana: Val d'Orcia
Trentino Alto Adige: Parco Adamello Brenta
Trentino Alto Adige: Lago di Braies
Umbria: Piani di Castelluccio
Valle d'Aosta: Gran Paradiso
Veneto: Venezia
Veneto: Burano
https://www.themayor.eu/ga/nutella-celebrates-the-beauty-of-italy-and-helps-tourism